Subscribe to Endcaps & Insights
It's Happening in Retail
The Field Agent blog, Endcaps & Insights, takes its mission seriously: keeping retail professionals in-the-know about the latest industry developments.
Named a top 10 market research blog by Feedspot, Endcaps & Insights consistently publishes high-quality articles, video, and photo galleries with a focus on retail shoppers, operations, and practices.
"You guys are on the cutting edge of consumer-focused research"
- Subscriber Testimonial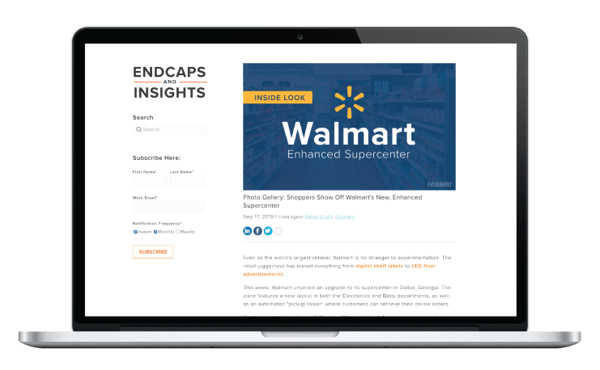 Subscribe to Endcaps & Insights to receive...
Video and photos of the latest developments in retail technology, shopper marketing, and omnichannel retail
Late-breaking insights on shopper attitudes toward major retail happenings
Photo galleries of best-in-class product displays in stores across the country
Information about related content produced by Field Agent and/or Endcaps & Insights
If it's happening in retail, it's happening on Endcaps & Insights.
What can subscribers expect?
We provide options for instant, weekly, or monthly blog updates. You are able to unsubscribe from Endcaps & Insights at any time in the footer of your update email.